Part One: The Limbo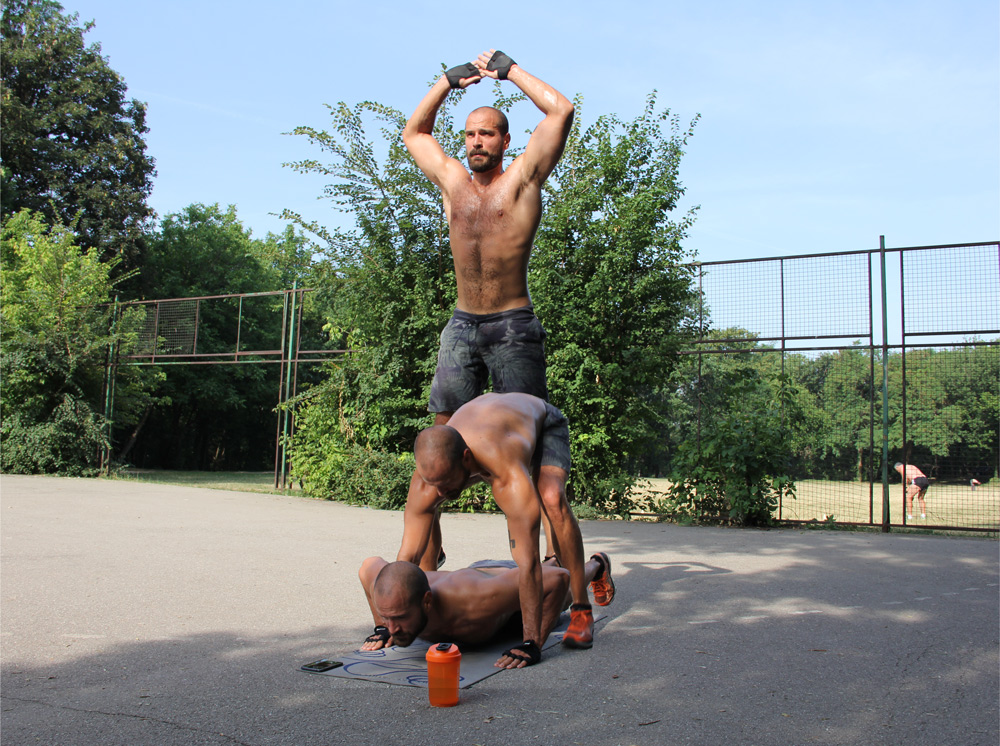 "What are you doing?" - said the girl. I was deep in the last round of a 2X Aphrodite workout with just a few more burpees left in the set. The sweat stain on the mat was growing concentrically with my each drop. I pushed myself off the ground to the low squatting position. I suddenly found myself on the same level as her small piercing eyes and she looked awed. I jumped up, hinged at the hips and let my chest softly fall back to the mat; It was flawless. Mindful of nothing but the rep count, I effortlessly decided to ignore the girl's presence and let her childish attention pass on to some other person in the park. After a few hard breaths I moved on to the squats. Half way through the set, I couldn't help but notice that she hadn't moved, and not even once looked away. There she was, on the edge of my personal war zone, laser-focused on each bit of my movement, like an amazed kitten. I sure wasn't ready to pause my workout for anything less serious than a heart attack. But then I realized she wasn't ready to give up on getting an answer either.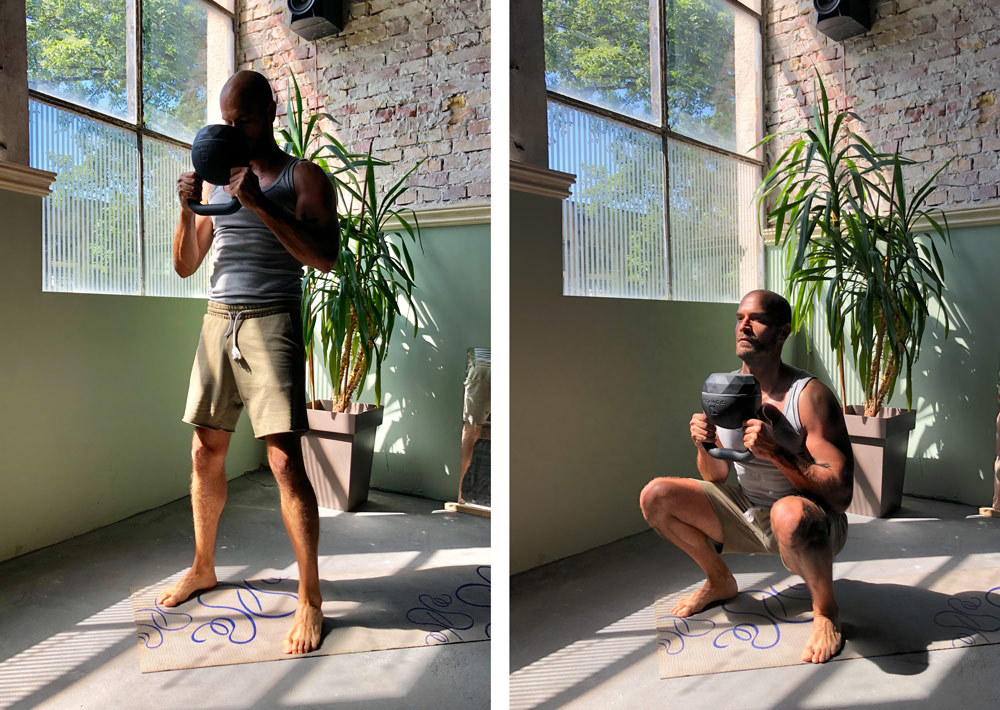 So, what am I even doing?! Well… I know! I'm on the Freeletics Hardcore Journey, just about to close the hell week with a triumphant 1000th workout. If we're going to go even deeper, I'm on the last 10 sit ups, ripping the skin of my tailbone for that new PB. I peripherally glanced at my phone. The clock said "-3:48". It is definite now. I! Will! Succeed! But how the hell could I explain all of this to a three year old? The pain was so overwhelming that I could hardly think about anything but the count. That's one state of mind I'm incredibly familiar with. After all of these years I've learned to bare and push through this by repeatedly reminding myself that it is making my body stronger and more endurable. It has upgraded me to a better version of myself! Wait! That's exactly what I'm doing! "I'm getting better!" - I shouted out in excitement. "I'm getting better" - I repeated, this time in a much lower tone, making sure not to scare off the child. The last situp! I franticly hit the "Finish" button, loosened up my whole body and hit my back against the ground.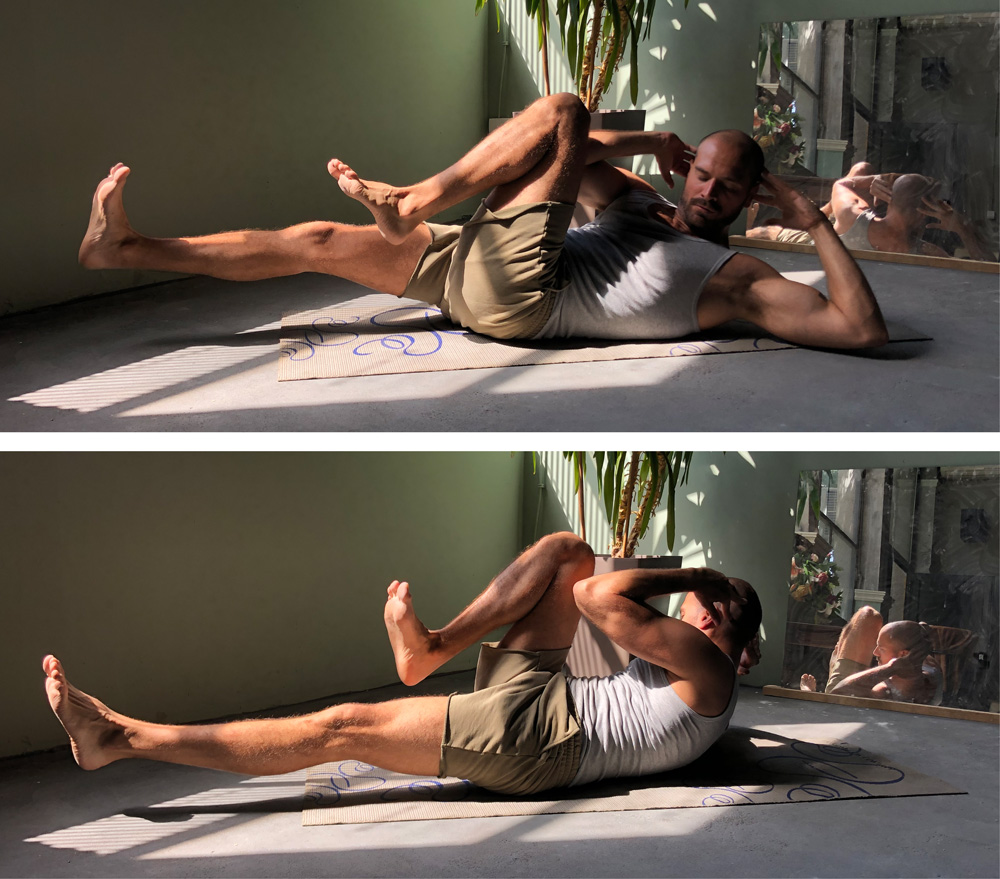 The sweat kept soaking my eyes. I could hardly see anything. After blinking a few times I saw her standing right above me. She tilted her head to the side. Her face changed as if she had suddenly felt anger and disappointment. It was obvious — my answer had not been sufficient. Of course, it just didn't make sense to her, but I couldn't care less. I felt no empathy for this cute little blue-eyed girl. Because I did it! Y-E-S! My new 2X Aphrodite personal best: 52min and 54sec. Once again, I raised the bar. Once again I've beaten my strongest opponent - myself! Clap-clap! I tried to squeeze in a smile to my face but the feeling of accomplishment was missing. Something wasn't right. I felt rejected, as if my result had been disqualified because of my ultimate failure to satisfy this girl's curiosity. I was still laying on the mat with my heart still thumping as if it were ready to burst out of my chest. Then, I felt something oh so familiar to me. Something I had felt very often throughout my childhood; A craving for the late gratification. Where the hell is it!? I need it! I've put myself through 53 minutes of self-induced hell for a piece of it! Okay, okay, chill the fuck out. You can still have it.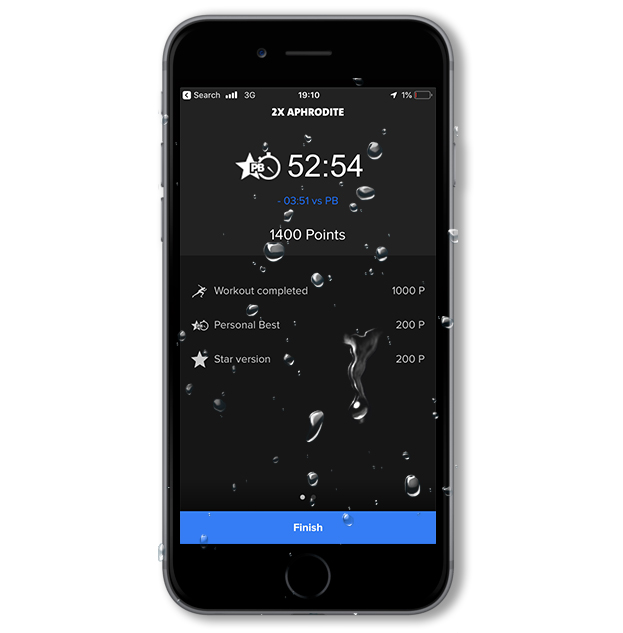 I tried to deepen my breath. It's simple - I just need to supply my brain with enough oxygen to help it come up with a more suitable answer to this damn girl's question. Once I'm done, she'll be satisfied and everything will fall back into place. Yeah, I'll get my kick. Breathe in through the nose; slowly breathe out through the mouth. Now repeat.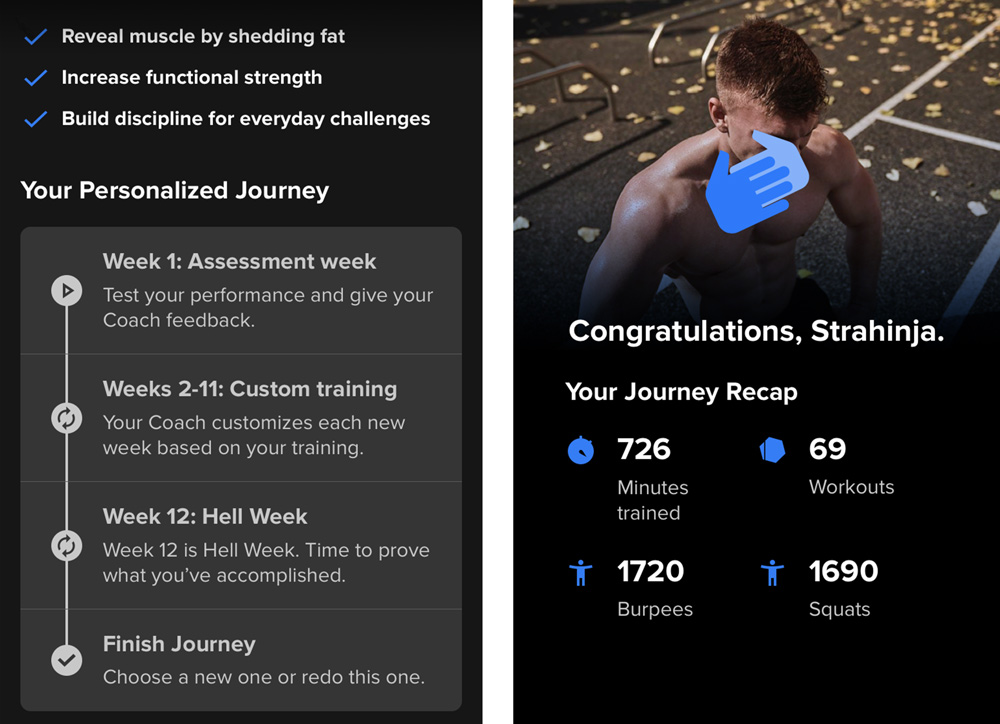 Just as the first clear, rational thought was starting to appear on the horizon of my numbed-out conscience, a man standing at the opposite end of the park called the girl by her name. She immediately turned around and left, gently running towards him as if nothing happened.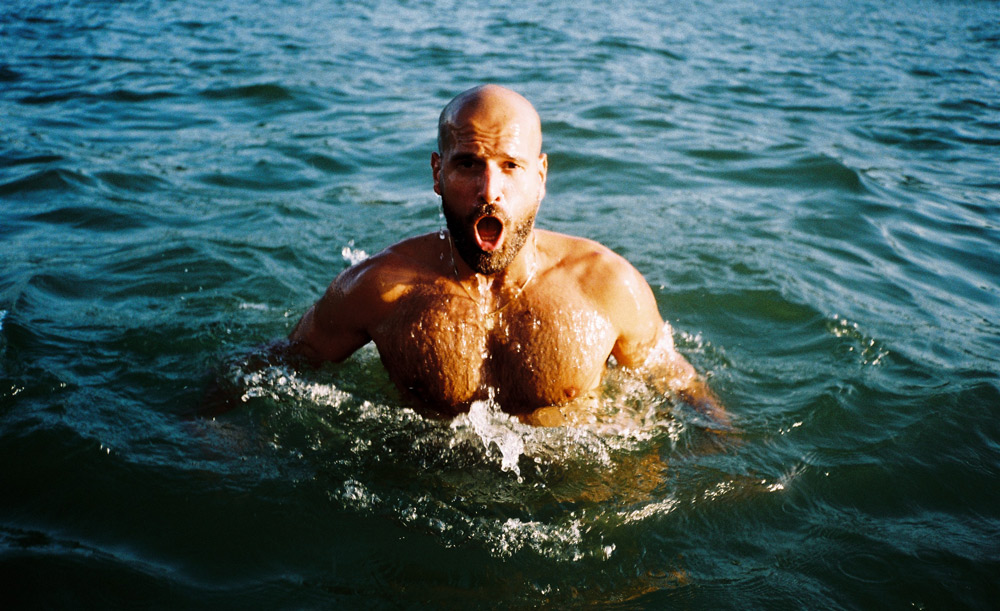 Part Two: Milestones
MAR 2013
The first version of the Freeletics Bodyweight app is launched.
MAY 2014
Started with a 15 week program simply called "Strength". I puked in the middle of the first few workouts but managed to push myself to the end each time. It was devastating but hell, was it ever rewarding.
JUNE 2014
1 million Free Athletes
JUL 2015
The "2x2" app feature is launched, allowing all workouts to be completed with just 2x2 meters of space. Fuck yeah, I can see my abs again!
5 million Free Athletes
MAR 2016
The new Freeletics Gym app, a barbell workout program, is launched. I'm in love with the deadlifts.
OKT 2016
New Aphrodite PB on the morning of my wedding day. I introduced my best man Nebojša Knežević to Freeletics.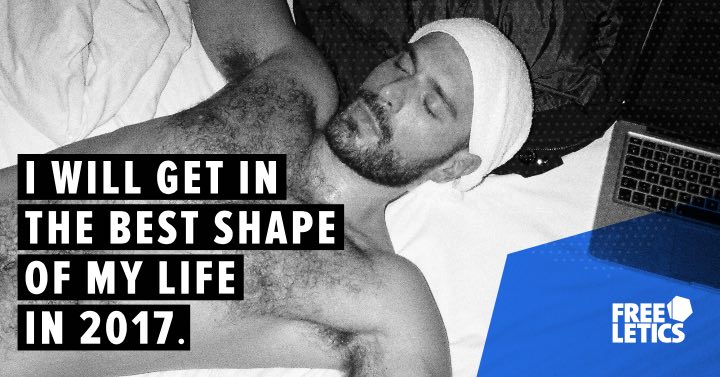 JAN 2017
The Bodyweight app's update brings a variety of new exercises and an almost infinite number of workout combinations. The Coach gets on a whole new level with AI and machine learning.
I got used to training first thing in the morning. I quit my 10 year smoking habit. My overall energy doubled.
14 million Free Athletes
NOV 2017
I wrote an email to the Freeletics Team trying to express my gratitude for their work and to also explain how they helped me transform. As a reply, I got a thank-you note from their help desk service, followed by a suggestion to consider applying for their ambassadors program.
I feel sexy!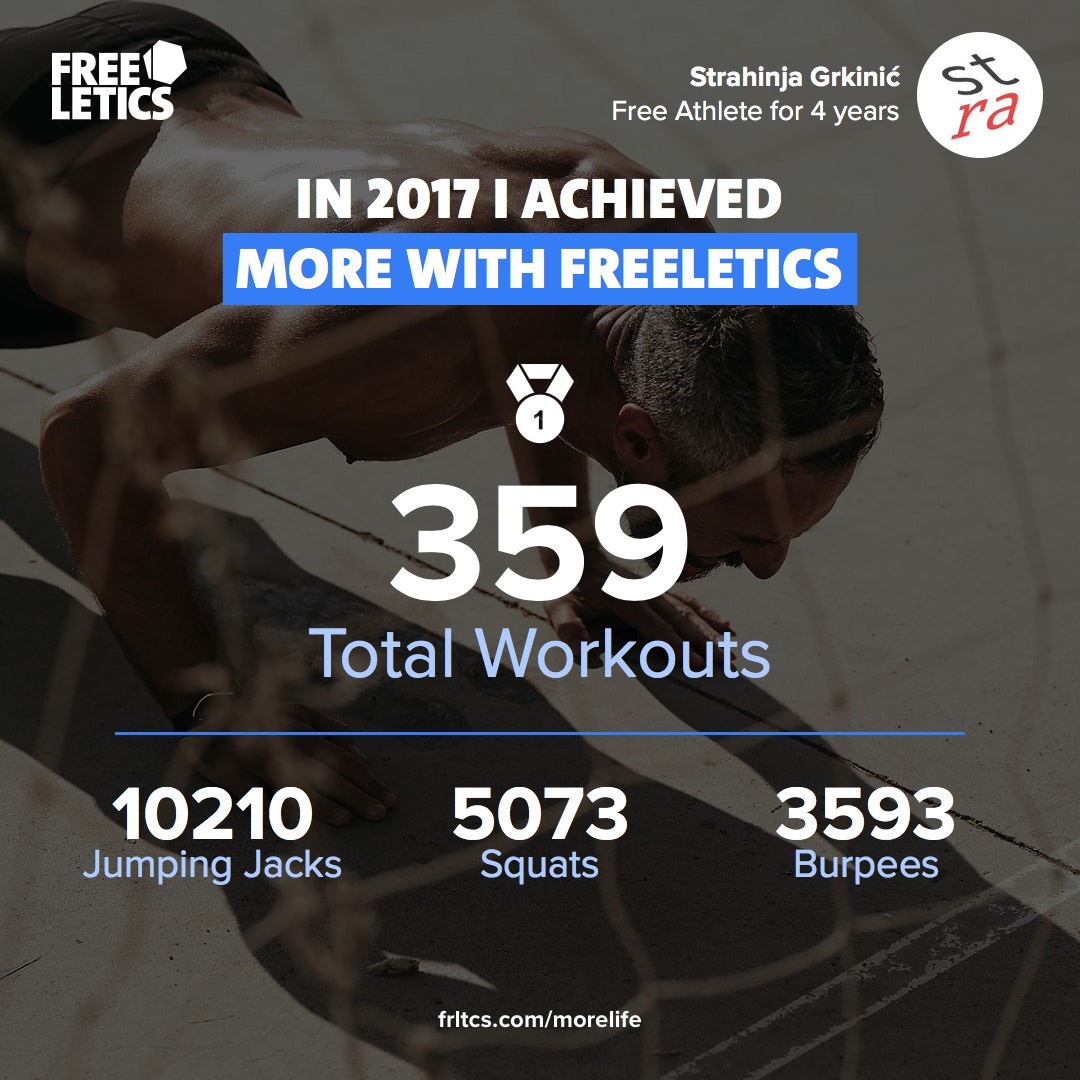 JUN 2018
I'm 33 years old and in the best physical and mental shape I've ever been in. I also sent in an application e-mail to the ambassadors program. No confirmation on receipt.
SEP 2018
I open a weekly newsletter and see that they've been shooting new promo material in various locations in Belgrade. I was pumped that they had visited my hometown and shot videos in the neighborhood I happen to workout in. Knowing this also made me feel worse about not having received any news on whether or not they'd even considered my application.
DEC 2018
Started using the gym app more frequently. I'm finally starting to feel the strength in my legs.
34 million Free Athletes
APR 2019
My 1000th workout. Nebojša had already done 2000 workouts. I'm proud of us. Clap-clap!
JUN 2019
I balance between Freeletics Bodyweight, gymnastic rings and kettlebell workouts. I am healthier and stronger than I was in my twenties.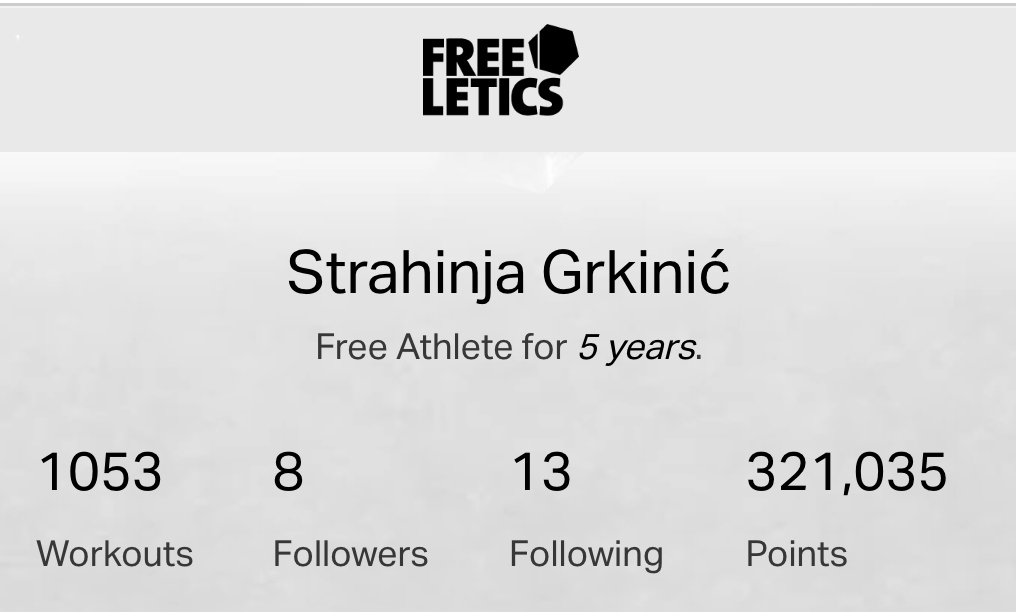 Part Three: The Intro
THE APP
The Freeletics app helps people to get into the shape of their life. With it, they have an AI digital personal trainer right in their pocket. This digital coach creates HIIT workouts and Training Journeys tailored to personal preferences, fitness level, goals and age. Thanks to its AI technology, it learns from the 34 million Freeletics users worldwide, which helps it to determine which precise exercises and workouts best match the user's abilities and goals. Over time, it analyses performance to ensure the user is continually challenged and progressing.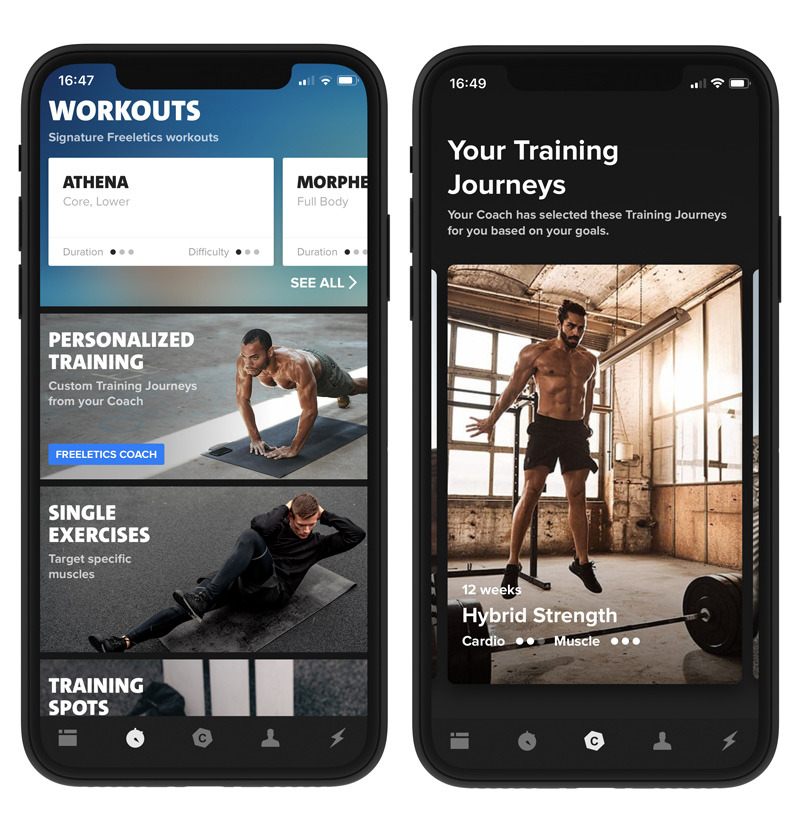 The workouts are incredibly effective, maximizing the afterburn effect and utilizing the efficiency of interval training. Thanks to the practical 2x2 feature, users can work out with just four square meters of space – practically anywhere.
TRAINING COACH & TRAINING JOURNEYS
To offer a long term personalized workout experience, the app offers custom training plans, known as Training Journeys. Totally dependent on individual goals and preferences, the Freeletics Coach will guide users through a Training Journey, week by week, to ensure they reach their full fitness potential. Users can track their progress and commit to their chosen plan for six to 12 weeks.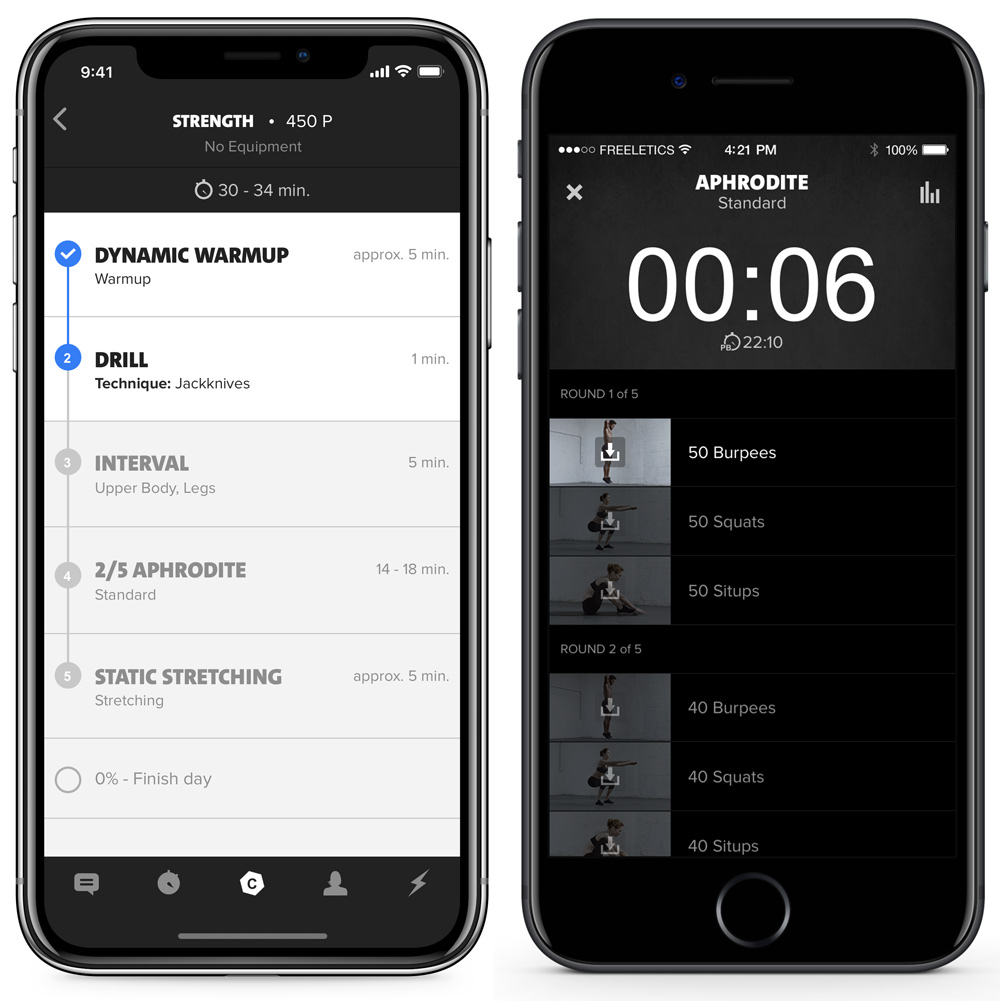 FREELETICS GYM
Freeletics Gym is a fully personalized barbell training system. The app educates and guides users through weight training, focusing on the simplicity of a barbell and all the highly effective movements it offers. The Gym workouts combine classic functional strength training with HIIT and can even be complemented with rowing. 37 workouts guarantee full body results and constant variety. Conditioning workouts are named after Nordic gods and are far removed from an uninspired and ineffective gym routine.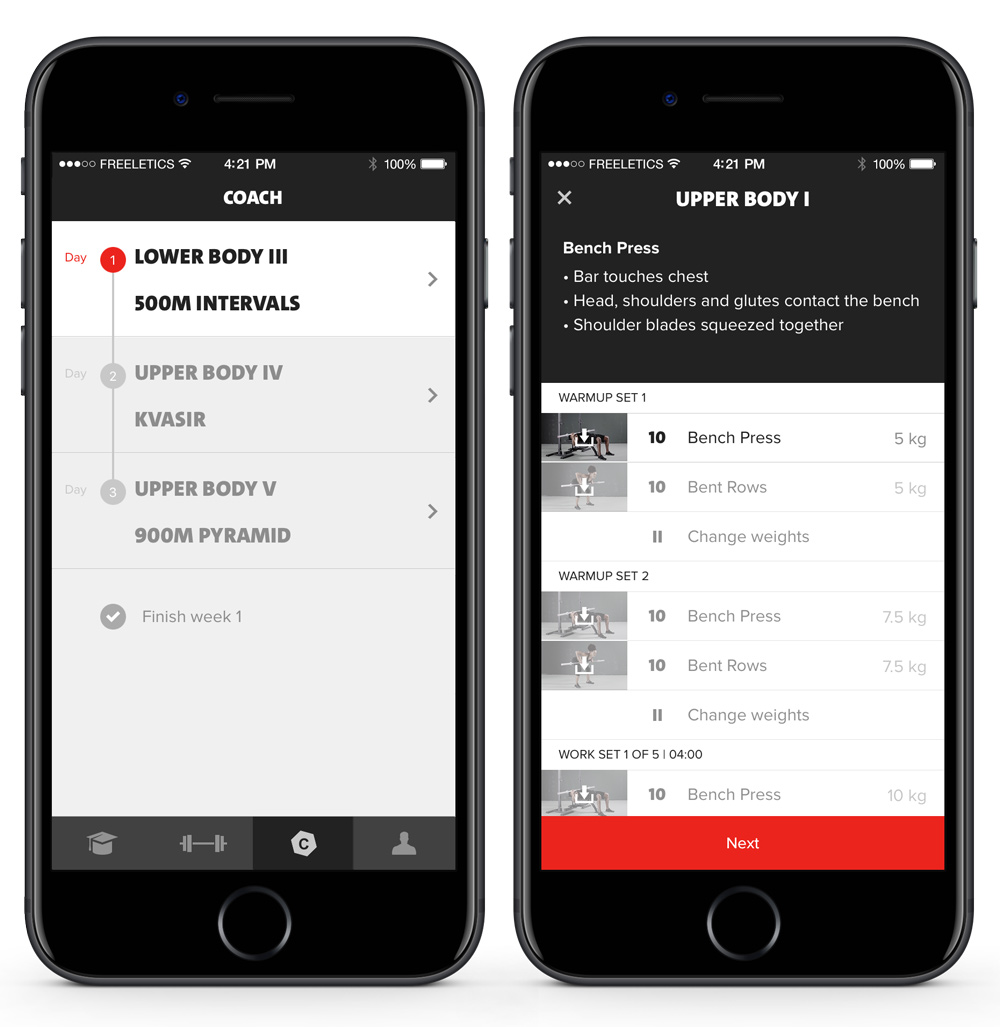 After each workout, the user can give the Coach feedback, which is in turn analyzed to optimize future training sessions. The Coach learns from the feedback and provides the best possible training experience for the best results. The Coach carefully guides users into proper form with a movement learning system and detailed how-to videos. Freeletics Gym isn't about blindly lifting heavier weights; it's about lifting smarter for better results.
RUNNING & NUTRITION
There is also a running and a nutrition companion app but since I haven't used either of them I can't comment.
FREE ATHLETES
As I enthusiastically continue to spread the word about the Freeletics brand whenever and wherever I can, Nebojša is still the only person among 34 million people who I know personally to be subscribed to the Coach. This is enough for me to feel accomplished, because I introduced him to Freeletics. Since then, he has shown exceptional stamina and has far surpassed me with the number of completed workouts in less than two years.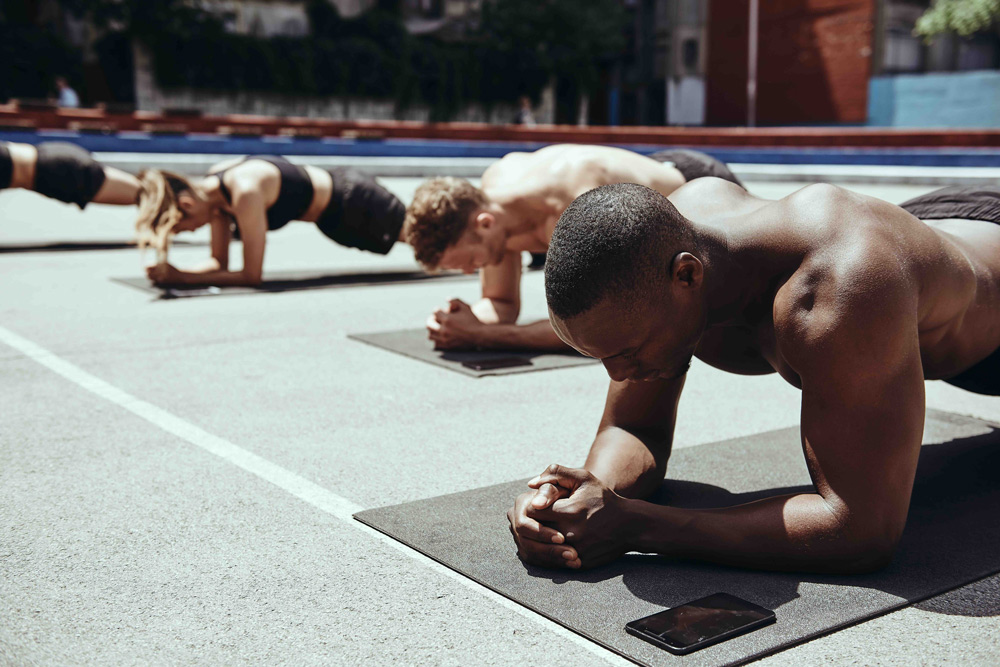 Like the two of us, people all over the world are gathering for Freeletics group trainings. They compare their personal bests, share training tips and connect both online and offline. The Bodyweight app features a social media-like feed which, combined with local Freeletics groups on social media, forms a motivating and supportive community.
Finale: No Quitting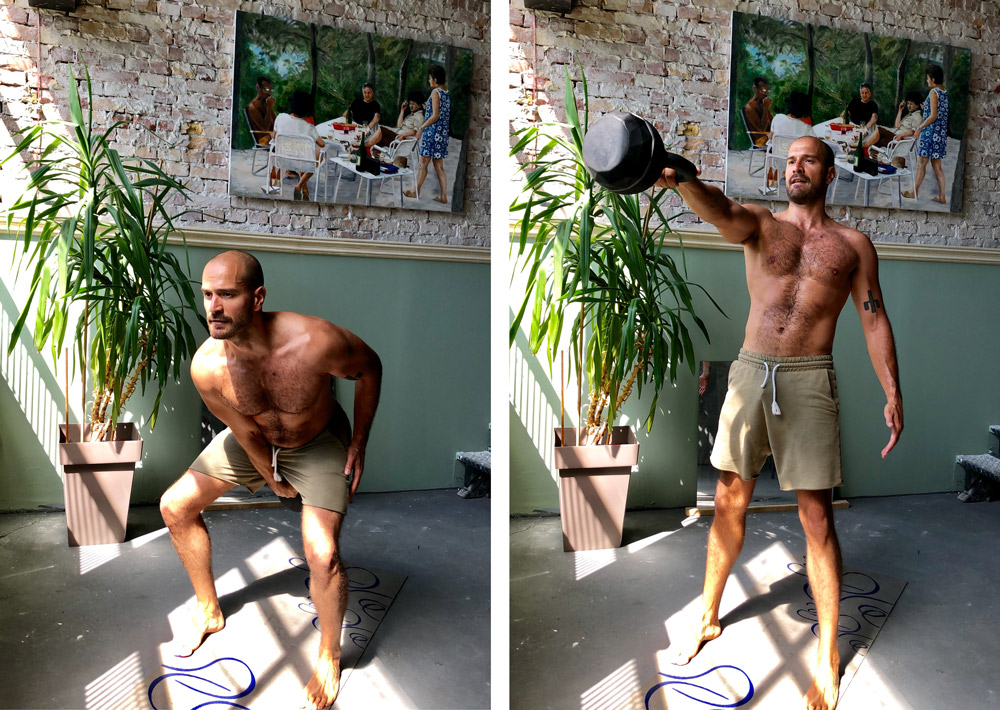 I've tried myself in a variety of different bodyweight and weight-assisted training systems. Most of them are good for reaching more or less specific goals but none of them will get you there without the hard work. Some will help you work smarter and more efficient, but at the end, it's all up to you. If you want momentum, you'll have to create it yourself, right now, by getting up and getting started.
First, know your goals and be honestly realistic about where do you currently stand. Get the clearest possible image of your desired outcomes. Know your priorities. You can't have it all at once and you shouldn't. Be patient. Learn to always listen to your body. Give it time to adapt and rest - it's the greatest instrument you will ever own. Show it your maximum respect.
The second most important thing I've learned on this journey is the first principles thinking. If you know the first principles of something, you can build the rest of your knowledge around them to produce something new. Learn the basics. Keep it simple. Stay curious.
Lastly, always be mindful of each movement and feel what your body is doing behing the scenes. Expanding sensory knowledge of your body will greatly speed the process of developing skill.
Freeletics is about all of the above, but it can't really teach you any of it. What it can do very well is provide you with a valuable guidance, tailored to your goals and optimized by your results; Help you learn by yourself.